Who is Lance T. Walker?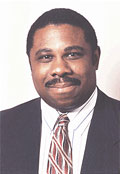 An experienced, co-active Business Coach helping people reach inside themselves to find solutions to their vocational and financial challenges.

A proud Air Force Avionics Communications veteran, and Special Ops squadron leader.

An "optimistic realist" with a track record of success in various high-tech and marketing endeavors, bringing substance and depth as well as engaging oratory.

An avid reader and scholar, serious student of six main mentors: Anthony Robbins, Wayne Dyer, Jim Rohn, Les Brown, Brian Tracy, and Michael Bernard Beckwith.

An accomplished, well-travelled researcher, driven by a desire to share the success secrets he's uncovered with other seekers.

A messenger of hope, of encouragement, and inspiration, bringing neuro-associative conditioning and other practical tools for turning life's frustrations into opportunities.

A motivating and educating speaker seeking to re-energize the minds of many who are weighed down by fear and disillusionment.

A man on a serious mission...

Special Skills
Entertaining educator - writer, speaker, teacher, coach. Able to reach audiences through multiple learning channels; auditory, visual, digital, and kinesthetic.


Marketing mindset - thoroughly trained and familiar with the psychologies of selling, persuasion, and influence.


Strategic thinker - well read, with strong research, interviewing, and project management experience.
My communicating style is concise, but engaging; logical and down-to-earth, yet enormously enlightening.

The well of experience I draw from is both wide and deep: Air Force communications systems specialist, Author, Project Manager, Sales trainer, Real estate professional, Business builder, Photographer, Computer support technician, Web designer/developer and more.
In other words, whether the situation is high-tech or high-touch, creative or technical, left-brain or right-brain, I can establish rapport with just about anybody. I bring that rarest of combinations to the table: the courage to do many things, and the capacity to do them well.

Isn't that the kind of expertise you want to work with?
Click here to request coaching services
Click here to book me as a speaker